Rock, paper, scissors - Science by Doing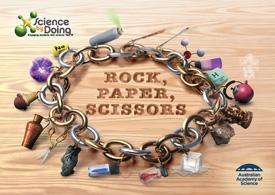 Publication Date: January, 2013
Type of Resource: Unit of Work
This online resource explores the properties of matter.
This resource is an inquiry-based learning sequence of hands-on activities, digital interactives, animations and videos that cover materials, properties, the periodic table and elements, states of matter, the kinetic theory of matter, compounds, mixtures and alloys. It also examines physical and chemical reactions with rust as a case study.
There are some lessons that are classified as optional and this allows the teacher to structure the unit to suit different classes. Students will develop laboratory skills while studying a range of physical changes and chemical reactions. Teacher guide, activity sheets and assessment items are available.
Additional Information
This freely available unit of work was produced by the Australian Academy of Science with support from the Australian Government and has been fully aligned to the Australian Curriculum: Science. Access through Scootle requires registration and is only available to Australian teachers. Each lesson is designed to take approximately one hour.