Earthquakes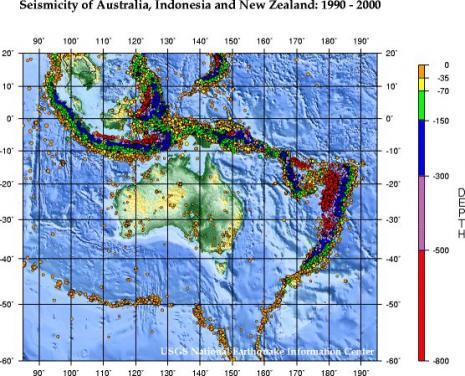 Publication Date: January, 2014
Type of Resource: Weblink
This online resource on earthquakes has been developed by Geoscience Australia specifically for use in the classroom.
The material available on the site examines the occurrence and origins of earthquakes based on the plate tectonics model. An overview of plate tectonics distinguishes between the types of faults found at the different types of plate boundaries.
Information about the recording and measurement of earthquakes is provided as well as details about primary and secondary earthquake waves and the methods used for locating the epicentre of an earthquake.
The impacts of earthquakes is also examined through case studies of significant Australian and international earthquakes. Earthquake monitoring and tsunami warning systems are investigated. The intraplate nature of Australian earthquakes is compared to the more common interplate earthquakes occurring at plate boundaries.
A number of engaging student activities lead students through the process of determining the location of earthquake epicentres using seismograph data as well as observational data provided in the Mercalli scale.
Teachers will find this resource valuable as the information is detailed and provides excellent background information and explanations of the concepts associated with earthquakes. This resource could be used across a number of different learning stages from Year 6 through to Year 9 and even senior studies.
All student activities have answers supplied.
Additional Information
The material is made available under a Creative Commons attribution 4.0 International Licence.