Earth's Place in Space - Primary Connections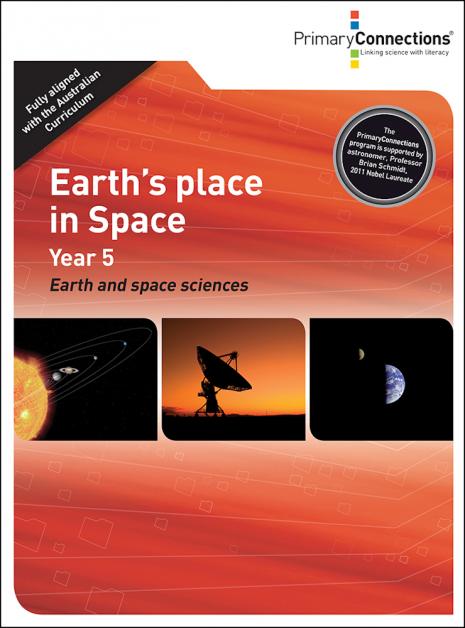 Publication Date: June, 2014
Type of Resource: Unit of Work
This unit of work covers Earth's place in the Solar System.
In the resource, students learn about how historical astronomers made their discoveries, including finding out that the Earth is a sphere and its relationship to the Moon and Sun.
Students also explore how the patterns in the sky relate to days, months and years and develop an understanding of how observation and models can be used to shape ideas and understandings through hands-on activities and student-planned investigations.
Students also investigate the elements of our Solar System and Earth's position within it.
The unit is planned as an integrated sequence based on the 5Es learning model.
Australian Curriculum v9 Codes: AC9S2U01 (Year 2), AC9S6U02 (Year 6), AC9S7U03 (Year 7)
Additional Information
This resource provides opportunities to develop appropriate inquiry skills, particularly the adoption of an evidence-based approach, and to promote a basic understanding of the nature of science and its application to everyday life. Suggestions to extend the learning are included in the unit.
Links to the General Capabilities, particularly Literacy, Numeracy and Critical and Creative Thinking are provided in the resource.
Primary Connections is a program developed by the Australian Academy of Science and is freely available to Australian educators through the National Digital Learning Resources Network via either the Scootle website or your local jurisdictional portal. This process requires registration on one of these sites and you will be asked to log in to access these resources.
Refer to your school science resources to determine if your school has access to the Primary Connections materials. If your school does not have access to the PrimaryConnections resources visit the Australian Academy of Science's Primary Connection website to find out more about the program. http://primaryconnections.org.au
Australian Curriculum:
Year 5 > Science Understanding > Earth and Space Sciences > The Earth is part of a system of planets orbiting around a star (the sun) > ACSSU078